ARMOR collects used laser and inkjet cartridges from premises of customers who have opted for the OWA solution*.
When choosing an OWA cartridge, the buyer is also acquiring a guarantee that, when no longer needed, it will be collected, sorted, recycled or remanufactured, and reintroduced into the industrial system.
Do you have a question about our collection service? CONTACT US
A collection service that takes its commitments seriously: OWA is the first brand to recycle your printer cartridges 100%
Collection is simply the start of a new chapter - this is definitely not the end for your cartridge!
After collection, the used cartridges are sorted:
Those that can be used again are remanufactured ;
The others are completely dismantled to separate out the different materials (copper, toner, plastics of various kinds and so on): the remaining toner powder is sucked out, the parts that can be reused are stored and the raw materials are carefully sorted by category and type ;
These materials are then reused as secondary raw materials or made into new products, such as bobbins for our OWA 3D-printer filament.
OWA is committed: every cartridge will be reused in two ways, following a full and unique materials recycling process.
Customized collection for each user
Under the OWA programme, each collection carton is identified as belonging to the final user by a bar-coded label, ensuring total traceability during the entire cartridge-processing procedure. The computerized monitoring process enables us to establish customized data for the Materials Audit for each collection point !
Manage the lifecycle of your cartridges thanks to your custom collection procedure!
Full traceability thanks to a personalised materials audit

The materials audit gives you detailed information about your environmental impact supported by figures:
The number and weight of cartridges collected

Processing of collected cartridges: number and weight of remanufactured or recycled cartridges

For non-reusable and dismantled cartridges: details on secondary raw materials that are reintroduced into the industrial circuit
Manage the lifecycle of your cartridges thanks to your customised collection!
An innovative plastic-free collection box
Today OWA's new collection box features several innovations which ensure its durability: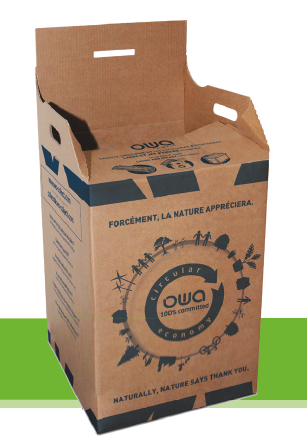 ​​​​​​​​​​​​​​
A self-locking base which makes it more airtight

preventing toner powder or ink from leaking out.

Kraft paper reinforcements and increased sturdiness to carry 15 to 20 laser or InkJet cartridges.
This box ensures both optimal use for companies and an environmentally friendly way to be transported to the processing site.
Des services gratuits accessibles en ligne

We pick up your collection boxes free of charge from your address within 24 to 72 hours.

We send you collection boxes free of charge within 24 to 72 hours.

You can download your materials audit easily and instantly.

Find and download different OWA Collection tools: communication posters, procedures and transport authorisations.
Nothing could be simpler than managing your OWA collection!
We know your time is precious, so the OWA collection service has been designed to simplify the things you need to do and reduce them to a minimum: all our services are accessible online via a secure platform.
Register online and get your user name and password by e-mail. Then you will be able to log in to manage collections with no complications.
Access the instruction manual of the OWA collection service
*You can enjoy custom collection and the associated OWA services if you use at least 10 cartridges per year. Otherwise, we recommend you club together with other users or dispose of your cartridges at official collection points (see here).
**The collection service is only available in Western Europe, in the following countries: Germany, Belgium, Spain, Denmark, France, Finland, Italy, Luxembourg, Netherlands, United Kingdom, Sweden.