Why choose Armor 100% refurbished printers?

Choosing a 100% refurbished Armor printer means choosing ecological, economical and quality printing equipment.
Reconditioned equipment is on the increase and rightly so! With excellent ecological virtues, it is a sustainable solution against the polluting manufacture of new electronic objects which generate a large quantity of waste.
This is why we have decided to extend our offer in printing equipment with a new range: OWA Line. A range of reconditioned printers, refurbished according to strict specifications allowing a durable and efficient use for professionals as well as individuals.
Refurbished printers combining quality and performance
Owa Line is a range of reliable, quality reconditioned equipment. The strict selection and revision process ensures that the solution is as effective as new equipment. The equipment is also carefully packaged so that it can be dispatched in good condition.

An eco-responsible approach
Owa Line guarantees refurbished printing solutions by reconditioning them to give them a second life! Owa Line reduces carbon emissions and waste volumes, thereby improving the environmental impact. Armor Print Solutions is developing a committed circular economy model that offers the double advantage of combining refurbished printing equipment with OWA remanufactured consumables.
Sustainable savings
Our refurbished printing solutions allow you to quickly reduce your printing budget. Refurbished printers are perfect for businesses and users who want to combine quality and savings, with a printing budget up to 60% lower than a new solution.

You are intereseted in our refurbished printers :
What are the steps for reconditioning OWA line printers?
Our refurbished OWA Line printers go through a number of refurbishment steps before being released to the market. These are 8 steps carried out in Europe, which will allow the printer to be refurbished to strict standards.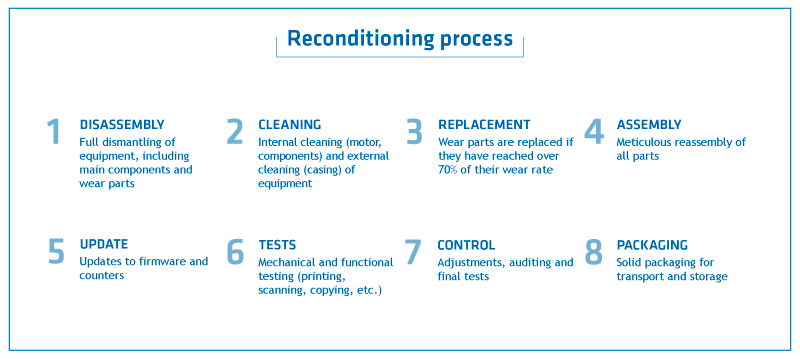 What are the key features of the OWA Line printing systems?
✓ Strictly refurbished and standardized (ISO, DIN...)
✓ Page counters reset to zero
✓ Reconditioned in Europe
✓ Carefully packaged
✓ Optional delivery and maintenance services

Are you interested in our catalogue ?