To garantee an optimal performance of its products, ARMOR gives you access to:
Articles and FAQ to find advices, information and where to buy our products.
A free Helpline assistance, accessible everywhere in Europe wich will give you technical advice, compatibilities and all necessary information about ARMOR products. If a product exchange is necessary the Helpline assistance will advise the consumer of the exchange procedure.
The ARMOR on site maintenance service which supports ARMOR customers in Europe*: it can intervene on-site to repair the printer, in the event of a defect linked to ARMOR product. If the printer has been damaged by the ARMOR comsumable, the Hotline support will indicate to you the assessment procedure and repair. No repair can be accepted without preliminary agreement from ARMOR on the basis of an estimated drown up by the service company selected by ARMOR.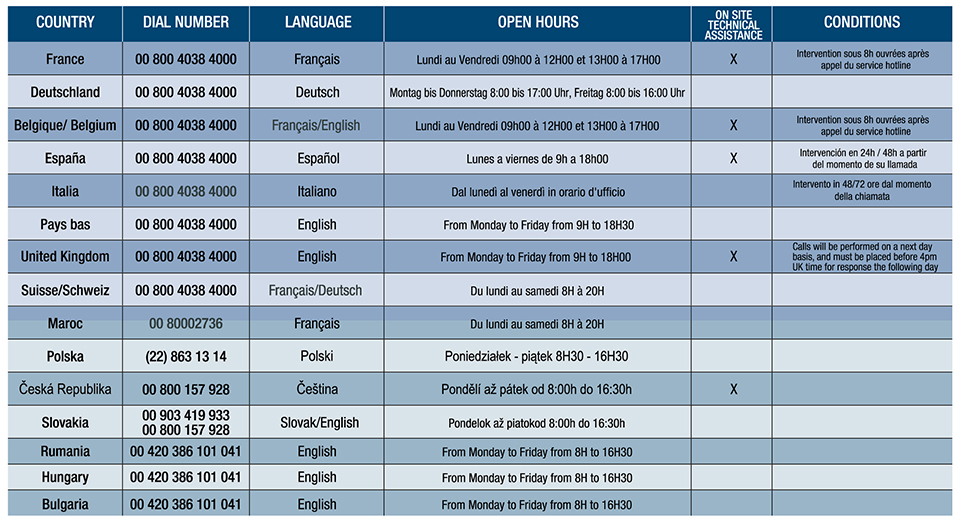 *For countries without ARMOR on site maintenance, in case of technical issue please contact your helpline assistance. Pour les pays qui ne disposent pas de service maintenance ARMOR, merci de contacter votre service hotline en cas de problème technique. Si el servicio técnico Armor no está disponible en su país, gracias por contactar con su servicio hotline en caso de problema. Sollte in Ihrem Land kein Vor-Ort-Service angeboten werden, wenden Sie sich im Fall eines Problems bitte an die Helpline. Per i Paesi in cui il servizio non è ancora disponibile, in caso di problemi rivolgersi al servizio Hotline. U zemí zde neuvedených, prosím kontaktujte v případě technického problému své obchodní asistenty. W krajach, gdzie nie jest dostępny serwis w siedzibie klienta, prosimy o kontakt z lokalną linią pomocy technicznej w przypadku wystąpienia problemów z produktami ARMOR.