An eco-responsible offer: reduce your ecological footprint
OWA is the insurance of a reduction in your environmental footprint through a certified and guaranteed product lifecycle value-added process. A perfect example of circular economy.
Opting for the circular economy
With the OWA offer, enter into the heart of a new consumption model where no more waste is produced. Preserving natural resources and anticipating product recycling are two founding principles of the circular economy in which OWA operates.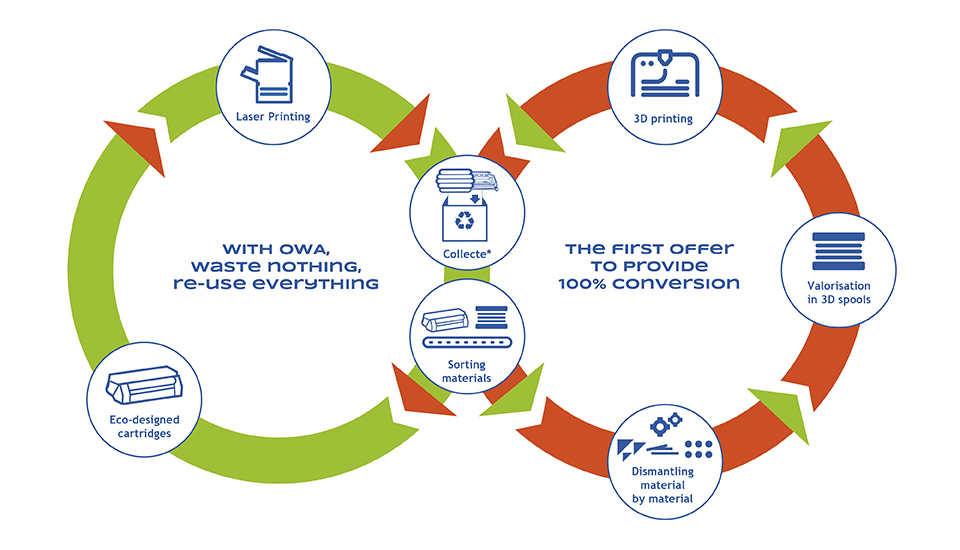 A range of eco-designed and remanufactured cartridges
Everything has been thought of responsibly, from eco-designed and recyclable packaging to the reuse of cartridges collected in the form of remanufactured cartridges or secondary raw materials.
More than 75% of the components of used cartridges are reused. The rest is recycled into secondary raw materials.

An environmental impact reduced by half for large capacity cartridges (compared to their standard equivalent).

An eco-designed, recyclable and reusable packaging, made from recycled and FSC-certified materials.